Welcome to GlitterTees!
Stand Up, Be Seen & Bling!" is a phrase we take very seriously! GlitterTees extends the boundaries of creativity to allow what you imagine to become reality. We specialize in printing 100% Custom Glitter T-Shirts, Apparel & Accessories for individuals, businesses, churches, schools & more. An AFFORDABLE alternative to the 'norm', we offer wholesale pricing as well as individual. Whether you are showing your support at a game or launching of a new venture; were here to help you be the 1st One they See Coming & The One They Remember Long After You're Gone... The World Is Demanding but We Make It Hard To Look Away!
Start Personalizing Now!!!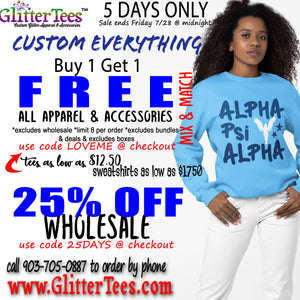 Shop the Collection now!
Show some support and join an awesome sorority! The Mission of APA is to meet the spiritual, physical and emotional needs of women worldwide. The mission was created to uplift, encourage and motivate women to become positive and productive while living and walking in their purpose. We are a sisterhood rooted in Christ. Visit https://www.apa2017.org to learn more!
SHOP COLLECTION
Shop the Alpha Psi Alpha Collection today!!!
Shop your FAVORITE team before the season starts!!!